Full-scale salt recovery for industrial raw materials at Herøya
NOAH currently reuses fly ash from the incineration of residual waste in order to stabilise residuary acid. The goal is to be able to recover salts for industrial applications. A full-scale processing plant featuring both energy recovery and salt recovery is scheduled for completion at Herøya.
We are proud to present a large-scale, future-oriented recovery project Resalt that will contribute by itself to reducing the tonnage of hazardous waste that goes to landfill by more than 20 per cent. This should be completely in line with the government's desire to reduce volumes of hazardous waste. We are now entering an exciting trial period. If everything goes as we hope, this will become the first recovery technology for fly ash that goes into operation at full scale while also being financially profitable. This will deliver a great circular economy, says Anders Lægreid, CEO of NOAH AS, Europe's leading operator in the field of fly ash processing.
Raw materials for other industries
Salt recovery can generate up to 80,000 tonnes of raw materials for industry on an annual basis. NOAH has initiated positive dialogue with industry operators based at Herøya who currently use salts as industrial raw materials.
INOVYN is an example of a company that uses large volumes of sodium chloride in their PVC production business.
Sodium chloride in fly ash is generated by, amongst other things, the combustion of PVC plastics, meaning that fly ash from PVC production is a circular recycling process of raw materials. If this project succeeds, it will be a win-win for both the environment and our production process, says Jon Halvor Bamle, Technical Manager at INOVYN Norway
Industrially and environmentally promising
Lægreid is optimistic that the project will be financially profitable.
This is a very promising project both industrially and environmentally. We are focused on resource utilisation and the circular economy throughout our value chain, and we believe that salt recovery is the right thing to do and important for two reasons: there is an industrial requirement for salts and they can be used for things such as the production of fertilisers and plastics. Additionally, NOAH is looking at projects that aim to utilise more of the other residual fractions in the stabilised waste, Lægreid explains
Furthermore, Yara has surplus heat from its production centre at Herøya, which may form a key contribution to the salt recovery process.
NOK 10 million from Innovation Norway
NOAH has concluded a test phase during which a full salt recovery processing plant was constructed at pilot scale. The project received support worth up to NOK 10 million from Innovation Norway.
NOAH has been granted support by the Environmental Technology Scheme to pilot its new technology for the recovery of salts from hazardous waste. There is a requirement in the market to solve the challenges that NOAH are addressing, and the project is deemed to have potentially significant and positive environmental impacts, says Guri Bjønnes Hotvedt, Department Head at Innovation Norway in Vestfold and Telemark.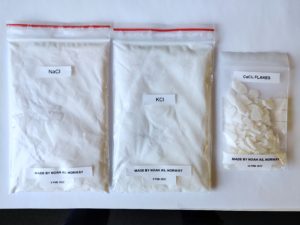 The funding, together with investments totalling approx. NOK 17 million from NOAH, was used to establish the main project to conduct pilot testing of the key industrial processes.
On February 2022, NOAH salt recovery pilot successfully recovered salts of Sodium chloride (NaCl), Potassium chloride (KCl), Calcium chloride (CaCl2) from wastewater generated by fly ash neutralization process. NOAH further works on the salt recovery process to yield purer salt products to match the industrial requirements.
We expect a full-scale salt recovery plant to be in place on Herøya, which will require investments of NOK 300-500 million. Such a plant will create more than 20 new jobs.
NOAH has been working on salt recovery and other technological developments for a long time. There are several industrial operators who are working on similar technology. We are very positive about this. Competition is helping us to make more rapid progress in finding great environmental solutions for the future, says Anders Lægreid from NOAH.
Maximum utilisation of resources
Herøya Industrial Park is home to one of Norway's most important industrial areas and is regarded as a key facilitator in the implementation of a large-scale project of this type where the objective is to create synergies and a good circular economy through partnership between a range of industrial operators.
Salt recovery shows the kinds of synergies we can extract when industrial firms work together in relation to utilising resources. One company's waste is another company's asset, and that means we get as much as possible out of the partnership. We are looking forward to participating in the project and hope it will inspire more operators to work together on other circular economy projects at the industrial park, says Rolf Olaf Larsen from Herøya Industrial Park.