Research and development
A targeted focus on research and development (R & D) has been crucial for NOAH's ability to develop safe treatment solutions for inorganic hazardous waste. R & D work has been going on for over 30 years and has made NOAH one of the greatest experts in its field in Europe. R & D  is supported by external experts as well as public authorities.
NOAH spends millions of kroner every year on R & D. In recent years, the focus has been increasingly on recovery aspects of hazardous waste.
Hazardous waste – unlike ordinary waste – contains chemicals that need to be permanently removed from nature's cycle. This is NOAH's responsibility. Through the development of technology and processing solutions, materials and chemicals that are in demand and environmentally safe can still be reclaimed and recycled. This is the technology and methods that NOAH's research work is focused on.
One of the most exciting research projects currently, takes place in a test facility that stabilises hazardous waste (fly ash) based on the capture, use and removal of CO2 from industrial flue gases. The test facility – which is located in the industrial area of NOAH's business partner Norcem in Brevik – is Norway's first industrial test facility of its kind. The environmental benefits are many:
Reduces Norway's greenhouse gas emissions: The process forms chalk from the reaction between calcium hydroxide in fly ash and CO2 in flue gas. Enables the capture of 1.25 million tonnes of CO2 over 25 years, equivalent to emissions from 25,000 cars for 25 years
Stabilises hazardous waste: Binds pollutants (heavy metals) in hazardous waste so they do not pollute
Utilises hazardous waste: Enables the stabilisation and rehabilitation of abandoned mines / open pits / destroyed natural landscape. A modern depot solution without long-term negative effects
Energy Neutral process: The process covers its own energy needs
No environmental spills: Dry process without emissions in the ground, sea or air
The results to date are promising and indicate that significant amounts of CO2 can be captured with such a solution. If the project is successful, NOAH will have helped to solve a societal environmental challenge. The solution will be implemented worldwide.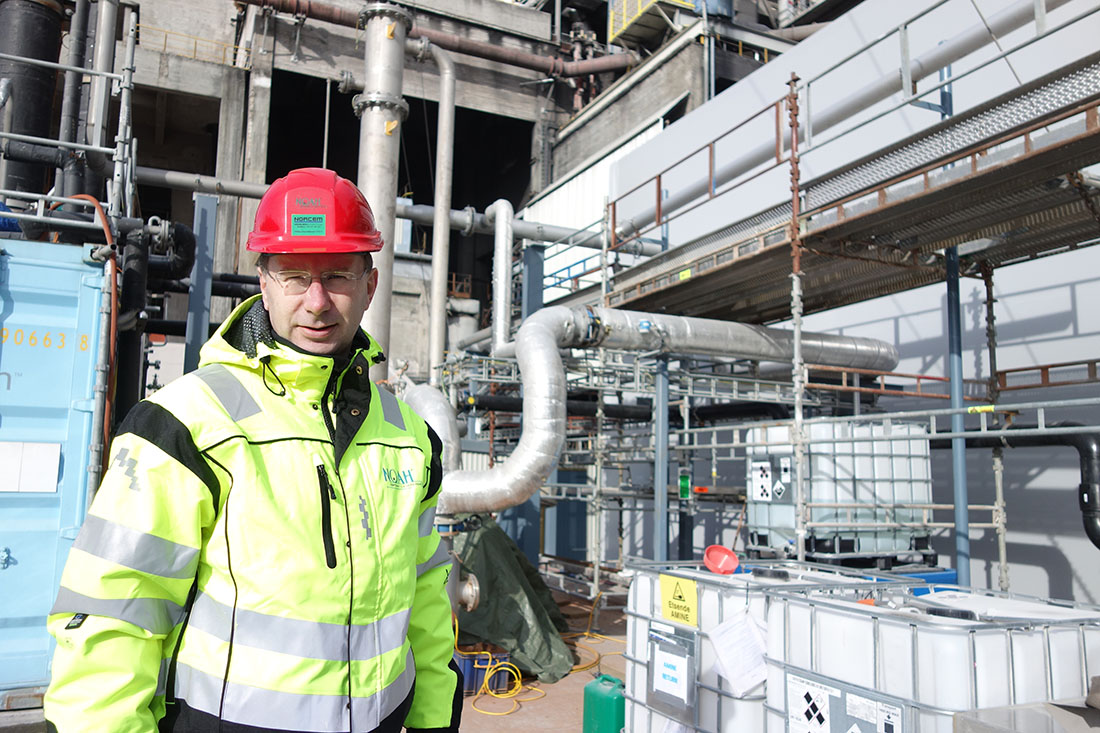 NOAH's project manager, Egil Solheim, is in charge of the testing facility for CO2 capturing in Brevik