NOAH is extending its reception of fly ash at Langøya until 2030
NOAH is extending its reception of fly ash at Langøya until 2030. NOAH has decided to construct a dewatering facility at Langøya. This entails a continued capacity to process inorganic hazardous waste until 2030, also enabling parts of these waste fractions to be recycled.
"This will ensure safe and eco-friendly treatment, as well as allowing us to take a long-term view as we develop solutions for the period after 2030", says Anders Lægreid, CEO of NOAH.
The decision to invest in a dewatering facility will ensure capacity to receive fly ash, sulphuric acid, and other industrial waste at current levels until 2030.
"We strive to provide Norway with treatment capacity, thereby also ensuring the industry and the population that residues from waste combustion and industrial production do not result in pollution", says Anders Lægreid, CEO of NOAH.
Leading expert community
The NOK 300 million investment will be made into a facility that presses water out of gypsum in a treatment process that renders the waste harmless. This yields dry gypsum suited for use in construction components for the final phase of rehabilitation of the limestone craters at Langøya. The development of the construction product has been the result of improvements made to the process over several years. The solution comes as a response to the Norwegian Environment Agency's request to find safe processing options in Norway for these waste fractions. Read about the application here.
"The filter press is a crucial step in our path from being a waste management company to being a producer, establishing Holmestrand as a nexus for circular solutions for the industry's residual fractions. Here we have one of Europe's leading expert communities for the treatment and exploitation of fly ash and other industrial waste fractions", Lægreid explains.
Enables recycling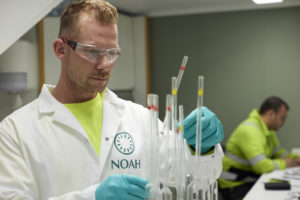 A chamber filter press is the key to all the recycling technologies NOAH and its cooperating partners are pursuing. The company now seeks to intensify activities in ongoing development plans for recycling solutions. The most relevant are the recovery of pure salts from processed water (ReSalt), the development of cement and concrete products with fly ash additives, re-use of CO2 from exhaust gases (Carbontech) and the production of pure gypsum from sulphuric acid. NOAH plans to begin a pre-project for our salt recovery concept (ReSalt) in 2023. Developed by NOAH, ReSalt has shown that we can achieve remarkably high refinement levels for industrial salts with a strong market demand.
"This is an exciting development process in which we have already made excellent gains. Aiming to drastically reduce the amount that must be discarded, NOAH has 10 full-time employees in R&D and works closely with industry players and researchers both domestically and abroad. We've been working on this for many years, but the long-term we've gained has considerably boosted our ability to realise our goals", says Lægreid.
He emphasises that responsible treatment will continue to involve some depot storage needs in the future. Read more about NOAH's recycling projects.
Nordic solution with a small footprint
NOAH is a key component of the Nordic waste management system. A large share of Norwegian household waste is sent to Sweden for heat production, forming an important pillar of the Swedish energy mix. In return, we receive fly ash, which is in turn used in the neutralisation process, contributing to the safe and secure rehabilitation of Langøya.
"The Nordic system provides large enough volumes to achieve both specialisation and efficiency. We can maximally exploit the waste you and I produce by first producing heat, then by using a waste product (fly ash) to neutralise and render another product (sulphuric acid) harmless, rather than using virgin materials such as limestone. The process at Langøya is stingy in terms of energy, water, and chemicals. That makes it a good environmental solution that we can carry on, allowing for a safe restoration of Langøya to the state it had before limestone extraction started there over a hundred years ago", says Anders Lægreid.
The Scandinavian energy situation
Estimates show that the energy recovery industry can replace approx. 12% (energy equivalent) of Russian gas to Europe. For the foreseeable future, fly ash will continue to increase in volume, which will require a secure and environmentally satisfactory treatment solution.
"For over 20 years, NOAH has shown that we can maintain a responsible and secure solution for fly ash. There are many fly ash treatment initiatives emerging in the other Nordic countries as well. We view this as a positive and exciting development. Competition breeds innovation, giving our customers even greater security. Going forward, we are certain that the industry will together be able to process fly ash in a responsible manner", says Lægreid.
Restoration of Langøya
The timeline for the complete rehabilitation of Langøya will stick to its original plan.
"The difference the filter press makes is that we can use the dry gypsum product to complete the island mass rather than using different standard materials. This gives us a homogeneous construction material and ensures sufficient volumes to complete the project within the 2034 deadline", says NOAH Solutions CEO Tove Stuhr Sjøblom, who is responsible for operations at Langøya.
85 percent of the island will be restored to become an outdoor recreation area with rich biodiversity and facilities for overnight stays, boating, and outdoor activities. In the coming years, NOAH will construct a harbour with approx. 30 berths at the northern end of Langøya. The remaining 15 percent of the island, its middle area, has been regulated for industrial purposes and may be developed into a hub for recycling activities in the future.